BJ Hickman is a consummate professional! He kept our young audience enthralled and the older folks present enjoyed him just as much!
BJ arrived right on time, set up and started on schedule. He is clearly comfortable working with small children and they were engaged throughout the entire 45 minute show. We will certainly recommend BJ Hickman to any group looking for a professional, high quality and entertaining show.
– Patricia P., Attleboro, MA

Read more
Very entertaining and sensitive to the audience.
We thoroughly enjoyed his show and interaction.
– Linda C.

Read more
Our event was a Christmas party for adults and BJ was there to mingle among the guests and do magic tricks in small groups at a time.
He arrived on time, introduced himself and interacted well with everyone. Whether a child or adult most are still fascinated with magic. And, this was the case with our group. Everyone enjoyed watching BJ in amazement and then wondered "how did he do that". Having BJ at our Christmas party was to try something different and it was a great success!!
– Helen D.

Read more
BJ was fantastic. There was lots of smiles and a ton of laughter.
He held the attention of 30+ kids between the ages of 4 and 8 for the full 45 min. My kids have been playing 'magician' ever since the party. BJ was very professional and easy to work with.
– Laura T.

Read more

BJ Hickman went above and beyond with keeping the kids entertained and the adults!
He was on time and interacted with kids, they loved him. I highly recommend him. Thank you BJ you were amazing!
– Valerie H.

Read more
Mr. Hickman was a guest speaker at our 10th Annual Dr. Michele Haddad Memorial Seminar. Over 250 from the dental community attend this seminar annually. Mr. Hickman's presentation was very well received. Each year we solicit feedback from our audience after the seminar is completed. The following is a small sample of the comments I received:
"Practical application (to the dental office)."
"Good ideas for (use with) children."
"Explained tricks so we could do them ourselves."
"Excellent, interesting, time went by fast."
"It was wonderful to have something different that puts a new twist on fun in the workplace."
"Gave us something to distract a younger child when having a hard time in the office."
"(It was valuable) to know there are simple tricks that even I can do to calm the fears of a child."
"(Valuable for) putting a child at ease if they are apprehensive."
"Very engaging – wonderful speaker."
"Simple tricks to use for anxiety for all ages."
"Great suggestions for distracting children's apprehension."
"A lot of fun and something wonderfully different than the same old seminar material."
"Enjoyed learning a new technique to make a child's visit to the dentist much more pleasant."
"Fresh idea, using magic to calm a child."
"Loved the presentation."
"Fun and humorous."
"Creative ideas for pediatric management."
"You held our attention – good speaker."
"Because I work with children, this topic was very valuable and entertaining."
"Terrific ideas for diverting kids attention."
"It was very unexpected and fun that definitely can be incorporated into our work."
"Encouraged you to have a sense of fun with young patients to relax them."
"Kept attention throughout presentation."
"Valuable in knowing what to do with children afraid or crying."
"Very good presenter."

On a more personal note, I found Mr. Hickman enjoyable to work with. The audience was riveted to their seats for his entire presentation. I would highly recommend that anyone who treats children on a regular basis attend one of Mr. Hickman's presentations.
– James M. Rozanski D.D.S, Director of Dental Services, Faxton-St. Luke's Healthcare, Utica, NY

Read more
---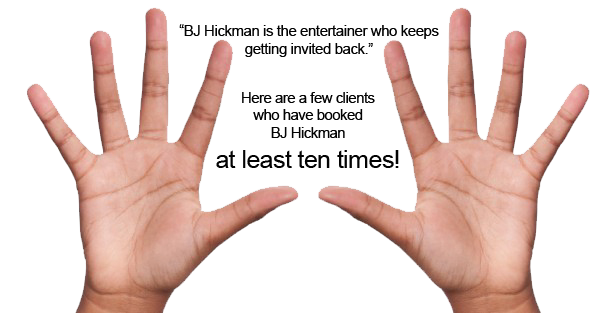 Waterville Valley Resort
Market Square Day
The Magic Castle of Hollywood
Mount Washington Grand Hotel and Resort
First Night Boston
Mclane Law Offices
Dexter Corporation
Freedom Old Home DayNH Special OlympicsHooksett Old Home DayRotary International
Madison Old Home Day
Benchmark Electronics
State of New Hampshire
Cambridge Arts Council
Pfizer Pharmaceuticals
Isles of Shoals Cruises
Battleground Arts Center
Eastern States Exposition
First Night New Hampshire
Jordan's Furniture
Hackmatack Playhouse
Manchester City Library Theater
Several Magicians' Associations
Motorola International
Cochecho Arts Festival
Rocky World/Deep Haven
Derryfest
Wentworth By The Sea Country Club
Bow Parks & Recreation
South Tamworth Union Hall
Paradise City Arts Festival
Lakes Region General Hospital
Portsmouth Police Association
Grand Summit Resort at Attitash
Greater Dover Chamber of Commerce
Hampton Beach Chamber of Commerce
Crotched Mountain Rehab.
Papoose Pond Resort
Puritan/Back Room
Library and Arts Centers throughout New England
Somersworth International Children's Festival
Several Colleges, Universities and School Systems in the Northeast
Point Sebago Resort
Fryeburg Fair
Sandwich Fair
Deerfield Fair
Erie Scientific
Georgia Pacific
General Electric
Concord Hospital
American Home Foods
and Several Libraries and Recreation Departments.

Read more
---
It is with great pleasure that I am writing to thank you for yet another wonderful hour full of fun and laughter!
My husband and I have seen your performance several times over the years and yet it is always fresh and full of life as you add new things and present time honored sleight of hand infused with your own personal flair. You are a consummate performer with a delightful sense of humor and impeccable timing which brings a refreshing smoothness to your show. I enjoy it every time! Your comedic presentation and ability to interact quickly and naturally with every audience is an amazing feat of magic in itself! You are a true gentleman with a clean, wholesome act that children and senior citizens alike will appreciate and look forward to seeing again, just as I do! Every B.J. Hickman show is "magic"! Thank you!
Sincerely,
Susan B. Kominz

Read more
BJ was amazing at my son's 4th birthday party.
He literally had the kids rolling on the floor in laughter! ! We definitely would recommend him for any type of event!
– Cheryl G.

Read more
He was fantastic!
Our guests loved him! Would definitely book him for another event!
– Leighann E.

Read more
BJ's show was great! He had everyone laughing from the start. We had very young children thru adults at our program and there was something for everyone.
I like the fact that BJ really enjoys working with children and it shows. I was impressed with his humor and the way he related to the audience. Very well done, the crowd loved it. Many thanks!
– Susan MacDonald, Weeks Public Library, Greenland, N.H.

Read more
"…one of my highlights in the States was the nursing conference I attended in Florida where you performed. I thoroughly enjoyed your show,
enthusiasm and dedication reflected through your talent of performing magic. Thank you for sharing that gift with so many."
– Patti Deacon, RN, London, Ontario Canada

Read more
"Magician BJ Hickman is a showman! We've had BJ entertain year-after-year at our employee family holiday party, in store promotions, and charity events.
If you're looking for humorous magical entertainment, I recommend BJ Hickman."
– Eliot Tatelman, President/CEO of Jordan's Furniture

Read more
"Mr. Hickman provided an entertaining show. He was chosen for his prior experience with persons with developmental disabilities.
This was a birthday party for an 82 year old woman. Mr. Hickman ensure that all the audience members had an opportunity to participate in the show. Well done, we would definitely hire him again."
– Bill S.

Read more
5 Star Google, Thumbtack, and Facebook Reviews!