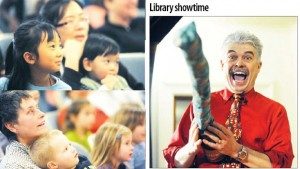 Public performances are on a limited, socially distant, government guidelines friendly basis. Private shows are being considered individually. Inquiries are encouraged!
Live, in-person BJ Hickman Magic Shows are back!
Have a date for an event in mind, and need entertainment? Reach out!
We're grateful for a very busy (all things considered) summer and fall, 2021 season. For the time being, we're not updating the schedule here because most shows booked are for private events, and all the dates booked have room for more shows in open day-parts.
There's nothing better than an in-person, fun, audience participation magic show for FAMILY ENTERTAINMENT! Experienced magician BJ Hickman can SEE SMILES THROUGH those masks! Now, more than ever, there's huge reason for an entertainer who is entertaining, professional, dependable, experienced, guaranteed, insured, affordable, and recommended. BJ Hickman!