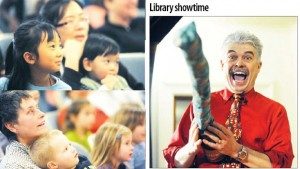 BJ Hickman's Schedule Highlights:
Gunstock Ski Area (NH), Tuesday, February 18, (2 to 5PM)
Wells (Maine) Public Library, Wed., Feb. 19, 10:30AM.
Durham, NH Cub Scouts, Feb. 20 (private)
High Point West Condo Clubhouse, Boynton Beach, FL. Sat., Feb. 22
(a few days OFF)
Wolfeboro, NH, Sat., March 7 (private)
Newport, NH, (School) Fri., April 17 (private)
Three State Magic Auction, Portsmouth, NH Sunday, April 19. (Contact BJ@BJHickman.com for details)
Manchester (NH) Kiwanis Club (members and guests) Wed., April 22.
Newburyport, MA Magic Show and Magic Class Sat., April 25.
Manchester, NH School (private) Mon., April 27.
Franklin (NH) Opera House, Thursday, April 30. Details at: http://www.franklinoperahouse.org/
Regular gigs! Greeley Park, Nashua, NH; St. Francis Rehab and Nursing Home, Laconia; Special Olympics, UNH, Durham; Lincoln Street School, Exeter, NH; Lyman, Maine; North Andover, MA ; Interlakes, Meredith, NH; Learning Tree Pre-school, York, Maine; Landry Early Childhood Center, Nashua, NH; Belmont, MA; Wentworth Douglass Hospital Employee Family Summer Outing; The Learning Path, Derry and Salem (NH); Moultonboro (NH) Library ; Palace Theatre, Manchester, NH; Andover, MA; Holman Stadium, Nashua, NH; Wentworth by the Sea Country Club, Newcastle, NH; Granite Start, Nashua; Franklin (NH) Public library; Stratham, NH Fair; Kittery, ME Community Center; Lexington, MA; Mirror Lake, NH; Farmington, NH Family Fun Day; Kennebunk, ME; Cochecho Arts Festival (Dover, NH Chamber of Commerce event); Keene State College (NH) Kids on Campus; Abenaqui Country Club, Rye Beach, NH; Hampton Beach (NH) Children's Festival; Seabrook Old Home Day (NH); THE RIDGE Marketplace, Route 11, Rochester, NH; Gilford Youth Center, Gilford Community Church, NH (on Gilford Old Home Day); Myrtle Street Playground, Boston, MA; and many more!
Let's do EVEN MORE! Call or email!
This is a partial listing of New Hampshire magician BJ Hickman engagements. There are no details of school shows, company outings, and other private shows. Contact BJ Hickman by e-mail: BJ@BJHickman.com, or call (603) 742-4010 for updated information, specific dates, times, admission prices, etc. Subject to change without notice. If you are interested in booking BJ Hickman and would like to preview a show, please call or e-mail about any of the shows above that may be in your area.