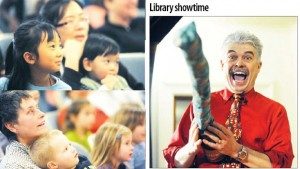 Live, in-person BJ Hickman Magic Shows are back! I'm grateful for so many repeat gigs and some new venues!
Club Sandwich: One night only Magic Show and Beginner Magic Workshop at Club Sandwich (in Center Sandwich, New Hampshire) Thursday night, June 30, 2022 at 7:00. https://www.johndavidson.com/clubsandwich That's John Davidson's venue! Yes, THAT John Davidson! … Singer, story-teller, Broadway and Movie star, and TV Show Host (That's Incredible, The Hollywood Squares). Did you know John Davidson was guest host for The Tonight Show Starring Johnny Carson 80 times?!? https://www.johndavidson.com/about.
Palace Theatre, Manchester, New Hampshire, 7 shows!, July 5 to 8, 2022. https://www.palacetheatre.org/
Shows every weekend for guests all summer at French-style camping or glamping resorts in Quebec, Maine, New Hampshire, New York and California, Huttopia. https://canada-usa.huttopia.com/en/.
Child Care Center Shows in Middleton, MA, Dracut, MA, Andover, NH, Brentwood, NH, Derry, NH, Salem, NH, Beverly, MA, Essex, MA, Hamilton,MA, Londonderry, NH, Manchester, NH, Lexington, MA, Wakefield, MA, Nashua, NH, Peabody, MA.
Watson Fields, NH (private).
Tamworth (NH) Parks and Recreation, (to be rescheduled in August).
Burlington, MA Parks and Recreation, 6:30PM, Wed., July 13.
Wentworth by the Sea (NH) Country Club (private).
Stratham, NH Summerfest, Sat., July 16.
Freeport, ME, Parks and Recreation (private).
Pittsfield, NH Old Home Day Sat., July 23. https://www.pittsfieldnh.gov/home/news/pittsfield-old-home-day-saturday-july-23-2022.
Wakefield, NH Parks and Recreation, (private).
Kittery Community Center, Kittery, Maine. Monday, July 25, 2022. https://kitterycommunitycenter.org/
Wells Library, Wells, Maine, Tuesday, July 26, 2022, 6:30PM. https://www.wellslibrary.org.
North Andover Youth Services, North Andover, Massachusetts, Thursday, July 28, 2022, 10AM at North Andover Town Common.
Boundary Farm, Dracut, MA 11AM, Sun., July 31. Details: https://5f76a035b8432.site123.me/?fbclid=IwAR2N2709-Iv0Nc0C-KThZXAYhHjetMA_fNfOkFgDJyD2C5iMiqbe63bXKxE
Howe Library, Hanover, New Hampshire, Thurs., July 28, 4PM.
Belknap Fair, Belmont, New Hampshire, Saturday, August 6, 2022, Shows at 10AM and Noon. https://www.bcfairnh.org/
Derry Public Library, Thursday, August 11, 2022, 1:30PM. https://derrypl.org/
Hampton Beach (NH) Children's Festival, 10AM, Monday, August 15. https://hamptonbeach.org/events/childrens-events/
Cochecho Arts Festival, Tuesday, August 16, 2022, Noon, at Henry Law Park, Dover, New Hampshire. BJ Hickman's longest running yearly gig for the Greater Dover, New Hampshire, Chamber of Commerce. (Since 1975) https://www.dovernh.org/.
Cornish Fair (New Hampshire), August 19, 20, 21, 2022. (two shows daily) http://www.cornishfair.org/.
Deerfield Fair (NH, Thursday through Sunday, September 29 to October 2. https://www.deerfieldfair.com/events-and-schedules.html
Fryeburg Fair (ME) Thurs., Oct.6, 2022. https://www.fryeburgfair.org/
More to follow!
There's nothing better than an in-person, fun, audience participation magic show for FAMILY ENTERTAINMENT! Now, more than ever, there's huge reason for an entertainer who is entertaining, professional, dependable, experienced, guaranteed, insured, affordable, and recommended. BJ Hickman!