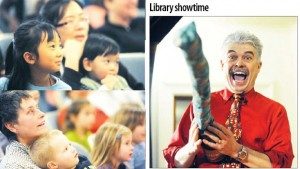 Book now for 2023-2024!
I'm grateful for a busy schedule. Here are some upcoming "open to the public" highlights.
Hooksett (NH) Old Home Day, Saturday, September 16, 11:30 and 2:00. https://hooksettoldhomeday.org/
Hampton (NH) PTA Party in the Park (Tuck Field), 4:45 Saturday, September 16, 2023, 4:45PM.
Deerfield Fair (NH), Three shows per day, Thursday thru Sunday, September 28 – October 1. https://deerfieldfair.com/events-schedules/
Fryeburg Fair, Maine, Hayseed Theater Stage, 9A, 10A, 11A, Thurs., October 5, 2023. https://www.fryeburgfair.org/
Coolidge Corner Theatre, Brookline, MA. Saturday, December 2, 2023. https://coolidge.org/events/bj-hickman-magic-show
More to follow!
There's nothing better than an in-person, fun, audience participation magic show for FAMILY ENTERTAINMENT! Now, more than ever, there's huge reason for an entertainer who is entertaining, professional, dependable, experienced, guaranteed, insured, affordable, and recommended. BJ Hickman!