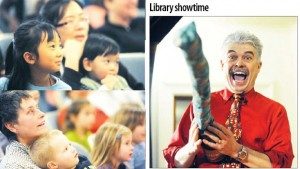 Live, in-person BJ Hickman Magic Shows are back! I'm grateful for so many repeat gigs and some new venues:
Deerfield Fair (NH, Thursday through Sunday, September 29 to October 2. https://www.deerfieldfair.com/events-and-schedules.html
Fryeburg Fair (ME) Thurs., Oct.6, 2022. https://www.fryeburgfair.org/
Boo Bash in Middleton, Mass. (private corporate) Saturday, October 22, 10:30AM.
Boundry Farm, Dracut, MA, Saturday, October 29, 11AM. https://5f76a035b8432.site123.me/?fbclid=IwAR0w5LrdobfurMDV-UyEsw6HRwnucr90CGPr_JNzw2_XeF2YmPDau_xaxeM
https://www.facebook.com/Boundary-Farm-639042376272586/
Rockingham County Assisted Living (residents and guests only), Monday, October 31, 10:30AM.
Hanover (NH) Parks and Rec. Dept. After School Program, wed., Nov. 2, 1:30PM.
Coolidge Corner Theatre, Brookline, MA, Sat., November 5, 2022, 10:30AM. https://coolidge.org/events/bj-hickman-magic-show
Magic Auction! Affiliates of The International Brotherhood of Magicians, and Society of American Magicians Present an all day auction, open to the public (magicians and magic hobbyists) ($7. admission) Sunday, August 6, The Chill Function Hall, 580 US Highway 1 Bypass, Portsmouth, at the Portsmouth Traffic Circle. More information from Mike Aranda, jediwakko@msn.com.
Boston (private), November 8, 2022, 4:30PM.
Tilton (NH) School, (for residential students), Sunday, November 13, 2022, 3PM.
More to follow!
There's nothing better than an in-person, fun, audience participation magic show for FAMILY ENTERTAINMENT! Now, more than ever, there's huge reason for an entertainer who is entertaining, professional, dependable, experienced, guaranteed, insured, affordable, and recommended. BJ Hickman!