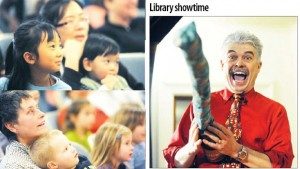 Public performances are on a limited, socially distant, government guidelines friendly basis. Private shows are being considered individually. Inquiries are encouraged!
Live, in-person BJ Hickman Magic Shows are back!
There are several private and surprise shows upcoming. But here are some highlights from my schedule:
Lebanon (Maine) KOA Campground. 2PM, magic show and a chance for attendees to learn a few tricks. Saturday, May 22, 2021. Details at https://koa.com/campgrounds/salmon-falls/events/?gclid=CjwKCAjwkN6EBhBNEiwADVfya7PK__VAC5I_AVQ6KA_ME_4udjY7Gcjn0ORhNYEBlF5V0GXy7VVG-RoCrHsQAvD_BwE
Newport, NH Montessori School, Monday, May 24, 2021. (Students and staff)
Wells, Maine (private) Sunday, June 6, 2021.
Interlakes, Meredith, NH (private) Thurs., June 10, 2021.
Learning Tree Pre-School (Maine) (private), Fri., June 11, 2021.
Beverly, MA (private) Thurs., June 17, 2021.
Manchester, NH (private), Sat., June 19, 2021.
Palace Theatre, Manchester, NH Wed. and Thurs, June 30, and July 1, 2021. Shows at 10AM and 6:30PM both days. https://www.palacetheatre.org/
Brentwood (NH) Recreation, (Summer Camp program). 1PM., Wed., July 7, 2021
North Andover (MA) Youth Services, 10AM, Thurs., July 8, 2021.
Wells (Maine) Library, 5:30PM, Thurs., July 8, 2021.
Cochecho Arts Festival, Dover, NH. 10:30AM, Tues., July 13, 2021. Details at: https://www.dovernh.org/cochecho-arts-festival
Hanover (NH) Parks and Recreation, (private) Tweens camp program. Wed., July 14, 2021.
The Learning Path, Derry and Salem (NH) Tues., July 27, 2021 (private).
Beaver Dam Campground, Berwick, Maine. Sat., July 31, 2021 (private for campers), https://beaverdamcampground.com/
Keene State College (NH) Kids on Campus. Magic workshop week of Mon., August 2 through Fri., Aug. 6, 2021. Registration info at: https://www.keene.edu/academics/conted/kids/
Belknap Fair (NH) 10AM and Noon, Sat., August 7, 2021. https://www.facebook.com/Belknap-County-4-H-1267225709961323/
Manchester, NH (private) Fri., August 13, 2021.
Newcastle, NH (tentative) (private) Sat., August 21, 2021.
Acton Fair (Maine), Noon and 3PM, Thurs., August 26, 2021. http://actonfair.net/entertainment/
Deerfield Fair (NH) 3 Shows daily Thursday through Sunday, September 30 through October 3. https://www.deerfieldfair.com/
And MORE TO COME!
There's nothing better than an in-person, fun, audience participation magic show for FAMILY ENTERTAINMENT! Experienced magician BJ Hickman can SEE SMILES THROUGH those masks! Now, more than ever, there's huge reason for an entertainer who is entertaining, professional, dependable, experienced, guaranteed, insured, affordable, and recommended. BJ Hickman!