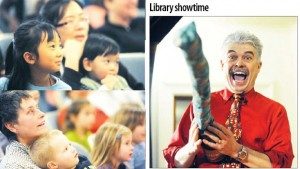 BJ Hickman's Schedule Highlights:
Hooksett, NH, Old Home Day Sat., Sept. 21 with shows at 12:25 and 3:25
Manchester, NH (private) on Sept. 22.
Deerfield Fair (NH) on Thursday through Sunday, September 26 through 29. https://www.deerfieldfair.com/events-and-schedules.html
Fryeburg Fair, Maine October 3, https://www.fryeburgfair.org/
(a few days OFF)
One Family Churches, Attleboro, MA Sat., Oct. 19.
Coolidge Corner Theatre (Brookline, MA) Sun., Oct. 20. https://coolidge.org/programs/kids-shows
Bow, NH Halloween Event, Fri., Oct. 25 (show-time at the High School Auditorium at 6)
North Berwick (ME) Halloween Party, 4PM, Sat., Oct. 26.
Manchester (NH) Country Club, Sun., Oct. 27 (private).
Grateful for a busy summer! Greeley Park, Nashua, NH; St. Francis Rehab and Nursing Home, Laconia; Special Olympics, UNH, Durham; Lincoln Street School, Exeter, NH; Lyman, Maine; North Andover, MA ; Interlakes, Meredith, NH; Learning Tree Pre-school, York, Maine; Landry Early Childhood Center, Nashua, NH; Belmont, MA; Wentworth Douglass Hospital Employee Family Summer Outing; The Learning Path, Derry and Salem (NH); Moultonboro (NH) Library ; Palace Theatre, Manchester, NH; Andover, MA; Holman Stadium, Nashua, NH; Wentworth by the Sea Country Club, Newcastle, NH; Granite Start, Nashua; Franklin (NH) Public library; Stratham, NH Fair; Kittery, ME Community Center; Lexington, MA; Mirror Lake, NH; Farmington, NH Family Fun Day; Kennebunk, ME; Cochecho Arts Festival (Dover, NH Chamber of Commerce event); Keene State College (NH) Kids on Campus; Abenaqui Country Club, Rye Beach, NH; Hampton Beach (NH) Children's Festival; Seabrook Old Home Day (NH); THE RIDGE Marketplace, Route 11, Rochester, NH; Gilford Youth Center, Gilford Community Church, NH (on Gilford Old Home Day); Myrtle Street Playground, Boston, MA; and many more!
Let's do EVEN MORE! Call or email!
This is a partial listing of New Hampshire magician BJ Hickman engagements. There are no details of school shows, company outings, and other private shows. Contact BJ Hickman by e-mail: BJ@BJHickman.com, or call (603) 742-4010 for updated information, specific dates, times, admission prices, etc. Subject to change without notice. If you are interested in booking BJ Hickman and would like to preview a show, please call or e-mail about any of the shows above that may be in your area.